Updated December 2019
All I can say is 'WOW'.
I've just spent three weeks in this fascinating, unspoiled region of the world, backpacking across the country of Myanmar, taking in every single captivating scene.
I've travelled through much of southeast Asia but there was something different about Myanmar, something more enchanting, something mysterious. Perhaps it was the feeling of taking the path less travelled and knowing I had seen the innocent, pristine beauty of a country bound for a flood of transformation. Perhaps it was the nature of the people, or the splendour of the landscape, or even just the rich culture that envelops every part of Myanmar. All I knew was that it was all fascinating, every little part of it.
I had no real plan when entering the country; in fact, I didn't even know you needed an e-visa to get in so I got stuck at KL airport for one night before my flight to Yangon. Despite my lack of planning, however, I was amazed by how simple it was to backpack across the country and see so many places in just the small space of 3 weeks.
So as a gesture to you fellow travellers I have put together this 3-week itinerary of my time in one of the most spectacular countries on earth. I only ask one thing in return – keep Myanmar spectacular. Be a responsible tourist and support local communities. Don't let the big money hungry corporations come in here and take over. Let Myanmar stay spectacular.
Day 1 – 3 – Yangon
It's no Bangkok, and it's no Saigon, but this bustling metropolis is nothing less than chaotic, and definitely worth spending a few days in. Spend the first morning visiting the 2,500-year-old Shwedagon Pagoda and in the afternoon walk around town admiring the old colonial-style buildings and trying as much street food as you can (It's everywhere!). If you're lucky enough to be in the city on a Wednesday or Sunday take the Free Yangon Walks tour that leaves at 4 pm from the park opposite City Hall.
On day two I recommend going on a bicycle tour with Uncharted Horizons Myanmar ($40 USD), a social enterprise that runs tours to remote areas of Yangon where you can get a glimpse of local life while supporting some great causes.
Where I stayed – Agga Guest House ($27 AUD per double room) Very comfortable beds and friendly staff, 20 minutes walk to the Yangon centre.
Food costs – Street Food (800 – 1500 Kyat), Restaurant (2000 – 5000 Kyat)
Day 3 – Night bus from Yangon to Bagan
We booked a night bus through our hotel only one day in advance and it was very easy. The bus was comfortable with air-con, pillows and blankets. Fell asleep in Yangon and woke up in Bagan. Cost – 17000 Kyat per person.
Note: You need to pay a 25000 Kyat tourist fee to get into the Bagan area
Day 4 – 6 – Bagan
We spent three days in Bagan but probably could've done it in two. This city is quite unique and one of the few famous postcard pictures of Myanmar. Thousands of historic pagodas scatter the flat, unfertile lands and make for perfect pictures of sunsets, sunrises and overall striking views. We spent one day recovering from the night bus, even though it was very comfortable with reclining seats and pillows, and just walked around town, trying some of the restaurants and sipping on some cheap cocktails.
Related Reading: This is How You Can be a Responsible Traveler in Bagan
The next day we got an e-bike (5000 Kyat) to explore the pagodas. An e-bike is similar to a scooter but run on batteries and doesn't really hit speeds of more than 40km/hr. It is a great place to start if you aren't too comfortable on a scooter (like me) or if you want to share with a friend who is a more confident rider (like I did). Otherwise, there is the option to hire a bicycle for a day or take a horse-drawn cart.
There are sooo many pagodas that you will never be able to see all of them in a short time. The best way to see them is to just drive around and stop wherever you feel like it. Every pagoda has something special about it and by the end of the day you'll be all pagoda'd out anyway. My only recommendation would be to see the sunrise or sunset from Pyathada Paya, it's amazing!
Related Reading: Bagan Travel Guide: Where to Explore, Eat, and Stay
Where I stayed – Shwe Nade Guest House ($24 AUD per double room) Cosy guesthouse with amazing breakfast and scooter hire.
Food costs –Restaurant (1500 – 4000 Kyat per meal)
Day 6 – Bus from Bagan to Mandalay
We booked the bus through our guesthouse and it was hotel to hotel which was very convenient. The price was only 9000 Kyat per person for a minibus that took approximately 5-6 hours.
Day 7 – 12 – Mandalay
We stayed in Mandalay for five days although you can definitely cut this down to three if you had to. The first day we arrived in the afternoon so we didn't do too much aside from explore the surrounding area and grab some dinner.
The next day was a rest day (you need these when you backpack for a long time), so we just hired bicycles, which were free from our hotel, and rode around the city to visit the biggest book in the world, and watched the sunset on Mandalay Hill. The day after we went to Mingun and did some community-based tourism with a local fishing village and some resident Irrawaddy Dolphins.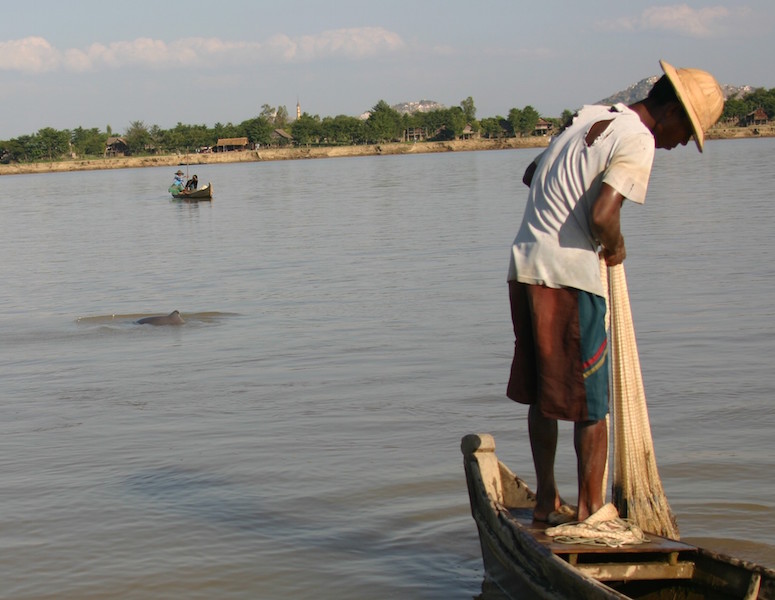 On the last day, we went on the Glimpse of Mandalay Tour ($30 USD), which was also a cooking class. This tour was a fantastic way to see the outskirts of Mandalay, ride through beautiful countryside and learn to cook some delicious Burmese meals.
Where I stayed – M3 @ Sun Winner Hotel ($29 AUD a night) Great, modern hotel with buffet breakfast close to the centre of Mandalay.
Food costs – Restaurant (1500 – 5000 Kyat)
Day 12 – Bus from Mandalay to Kalaw
We booked the minibus through the hotel. It picked us up from our hotel and dropped us into the centre of Kalaw. The price was only 10000 Kyat and it took approximately 5 hours
Day 12 – 14 – Kalaw
You see the scenery drastically change as you enter the Shan State. Green fields and beautiful mountains encompass this region and it's a great spot for trekking. We decided not to do the well-known trek from Kalaw to Inle Lake, instead, we did our own trekking around the area.
The first afternoon we just relaxed in our new surroundings and had some dinner in town. The next day we did a full day trek that was recommended to us by our lovely hosts at the Thitaw II lodge. They put together a comprehensive guide for guests, and you come here for the guide even if you aren't staying at the lodge.
The trek was beautiful, through small villages, agricultural land and various pagodas. You can see some of the hill tribe people going about their daily lives, greeting you with smiles and a "Mingalabar" as you pass by. I would certainly recommend one more day here if you don't decide to do the Kalaw to Inle Lake trek.
Where I stayed – Thitaw II ($29 AUD a night) Cosy guesthouse situated in the hills above Kalaw centre. They bake their own sourdough and banana bread.
Food costs – Restaurant (2500 – 5000 Kyat)
Day 14 – Kalaw to Inle Lake by train
People tell me their mixed opinions of the Myanmar train but this was by far one of the highlights of my trip. For just 1150 Kyat I got a ticket from Kalaw to Inle Lake. We got moved to the front of the train, which had reclining spacious seats and barely anyone in the carriage. The scenery was just incredible and you really get a glimpse of the old Myanmar.
When you get to the station at Inle Lake you need a taxi to get into Nyaung Shwe that costs 8000 Kyat for the whole taxi. Best to split between a group.
Note: You need to pay a 12000 Kyat tourist fee to get into the Inle Lake area
Day 14 – 19 – Inle Lake
Nyaung Shwe, the town of Inle Lake, is a great little town that somewhat resembles Siem Reap about 20 years ago. Businesses are slowly popping up and you can see tourism has hit the area.
You have access to Inle Lake from Nyaung Shwe and everyone usually uses this area as their base. On the first day, we relaxed and explored the town a little. Found a few little places that serve western food (by this time we had non-stop Burmese food and while the Burmese food is great it was also nice to have a decent pizza)
Related Reading: 15 Amazing Things to Do Around Inle Lake
The next day we took the boat out to Inle Lake. This is a common tourist activity but because it was the low season there were hardly any tourists to be seen. The boat costs only 20000 Kyat and can fit 4. The driver takes you on the lake and stops off at various places, some touristy, like a silk factory, and some not so much, like a local village and beautiful array of pagodas (Indein).
The day after we hired bicycles from our hotel and rode through the quiet, quaint countryside of Nyuang Shwe, visiting small villages and admiring the amazing scenery. It is very easy to get off the beaten path on the outskirts of Inle Lake and a common route is to spend the day riding around the lake.
On the last day, we did some more community-based tourism but this time to the stunning pagodas of Kakku, and an area famous for the Pa'O tribes. We took a day tour that left from our hotel and drove us the 2.5 hours out of town but it was well worth it to learn about the Pa'O traditions and visit the pagodas. (50000 Kyat for the transportation, 3000 Kyat entry fee to the pagodas, 5000 Kyat for a guide).
Where I stayed – Bright Hotel ($27 AUD a night) Nice guesthouse located right near the Nyuang Shwe jetty and close to the town centre.
Food costs – Restaurant (3000 – 8000 Kyat)
Day 19 – Night Bus Inle Lake to Bago
We got another comfortable night bus from Inle Lake to Bago. We booked through our hotel, which was very easy and found ourselves on another bus with reclining seats, pillows and blankets. The bus cost 22000 Kyat and took approximately 10 hours.
Day 20 – 21 – Bago
We arrived in Bago thinking this was the place to visit the Golden Rock but, in fact, the Golden Rock was another 2 hours away. So we ended up using this as a stop for one night.
The town itself really doesn't have much to offer and I would probably recommend skipping it completely or heading straight to Golden Rock on a day tour.
Where I stayed – Amara Gold Hotel ($29 AUD a night) Nice hotel in Bago who let us check in at a very early hour and have a delicious free breakfast.
Food costs – Restaurant (1500 – 4000 Kyat)
Day 21 – Bus from Bago to Hpa-An
We booked a bus through our hotel that took us from the Bago bus terminal right into the centre of Hpa-An. Although the bus did take the route past the Golden Rock we opted to skip it this time and just head straight to our guesthouse in Hpa-An. It seems the best option to see Golden Rock is perhaps a day trip from Yangon, as it is a little out of the way.
Day 21 – 23 – Hpa-An
Hpa-An is the last stop if you want to travel overland to Thailand through Mae Sot. The centre of town doesn't have much to offer tourists but head into the outskirts and you'll witness some of the most spectacular scenery in Asia.
On our day passing through Hpa-An we joined a great full-day tour (5000 Kyat per person) offered by the Soe Brothers Guesthouse. They are famous for providing guests with a wealth of knowledge about Hpa-An and surrounds. The tour took us to beautiful ancient Buddhist caves and even took us on a slow canoe ride through rice fields and mountains. It was definitely one of my favourite places in Myanmar and would recommend spending one extra day here if possible.
Related Reading: 10 Unique Experiences to Have in Hpa-an
Where I stayed – Soe Brothers Guesthouse ($26 AUD a night) Basic guesthouse with everything you need, great for booking tours and ongoing transportation.
Food costs – Restaurant (1000 – 2000 Kyat)
Day 23 – Crossing the border from Hpa-An to Mae Sot (Thailand)
We booked a car that took us to Myawaddy, the Myanmar side of the border. It cost 10000 Kyat and took approximately 4 hours. Once in Myawaddy you go through customs and walk over the friendship bridge into Mae Sot. As far as border crossings go this one was very quick and easy. For a more detailed description of crossing the border you can read my article here.
Some other places to consider if you have more time–
Mruak U (West)
Lashio (North-East)
Dawai (South)
Keng Tung (East)
Some things to note as before you arrive –
ATM's are in all cities and take both VISA and Mastercard, however, I found them to charge very high fees.
Banks and Currency Exchanges in most cities only exchange US Dollar, SGD or Euro. If you have any other currency you will have a very hard time exchanging it. I suggest taking US dollars with you.
In the low season (May to Sept) you can generally get accommodation on arrival but it can get very busy in the high season (Oct to Apr) so I suggest booking in advance. I used Booking.com to book all my accommodation about 2-3 days in advance while travelling through the country in May.
For some reason, most hotels and guesthouses set their prices in US dollars but also accept Kyat.
Most nationalities need a visa to get in the country. An e-visa can be obtained online for $50 US dollars but you have to enter by air (you can leave by land). A normal visa can be obtained at an embassy and will be much cheaper. This will allow you to enter by land.
Myanmar is in no way westernised. There is no 7-11 or McDonalds. You are committing to a real Asian holiday, meaning all Asian food, but in my opinion, all the food is great.
Exchange all your Kyat before you leave the country. There are no banks that I know of outside the country that will change Kyat
For more tips, before you travel you can read my article 8 Things To Know Before Backpacking Myanmar
Aside from those few things I found Myanmar to be a very easy and safe place to travel. While there are still some places deemed unsafe for travel, the majority of the country is welcoming tourists with arms wide open.
There is a lot of community-based tourism happening in the area so be sure to support local as much as you can. For a list of social enterprises in Myanmar please visit Grassroots Volunteering.
If you have any questions about travel to Myanmar please feel free to comment in the section below or send me an email at thealtruistictraveller@gmail.com
Like what you're reading? Please share the love using any of the buttons below.
Need a flight to Myanmar? Compare prices with Kiwi.com