The beautiful practice of Yoga has spread far and wide throughout the world, from the hills of the Himalayas right into the turbulent heart of downtown New York City. Western civilisation embraced this spiritual practice not only as a fitness regime but also as a refuge from the chaotic mind and a way towards inner peace. Those who are committed to the practice know well the immense benefits it can bring to our daily lives. And even those who have merely dabbled in the practice will be able to tell you the feeling of zen that occurs in a well-deserved Savasana after a challenging series.
There's no denying Yoga can significantly improve our quality of life so I've teamed up with fellow travel bloggers to share with you a guide to some of the top Yoga destinations around the world. Whether you plan to visit these destinations solely for the Yoga experience or want to continue your practice while travelling abroad,  here is a list of the best destinations to do so.
Bali, Indonesia
Also known as "The Island of Gods" Bali offers countless opportunities to practice Yoga in the middle of nature. It is a Mecca for Yogis from all around the world!
Whether it be the rice paddies in Ubud, the popular city of Seminyak, overlooking the ocean in Sanur or far from the crowds in Gilimanuk, you will find a Yoga studio or retreat suitable for your style and budget. From beginner classes to Yoga teacher training (YTT) and deep meditation sessions in ashrams, you'll find it all in Bali. Yoga activities are so popular around the island that you can also find great equipment and accessories too, at very competitive prices.
Apart from Yoga itself, your experience in Bali will be complete with the delicious food, based on local fresh ingredients, serene escapes in nature, magnificent temple visits and surreal sunsets that can be witnessed only in Bali.
Contribution by The Happy Kid. Follow their adventures on Instagram.
Related reading: Ethical eateries in Ubud, Bali.
---
Rishikesh, India
The place where Yoga began. Experience bliss in Rishikesh, a holy city nestled between the sacred Ganga river and the magnificent Himalayan mountains.
Vinyasa Yoga School is a spiritual yoga teacher training program in Rishikesh, India. Starting at $1595 USD, they offer all-inclusive 200, 300, and 500 hour yoga teacher certifications, which focus on giving you a holistic understanding of yoga beyond the physical aspects.
Tuition Includes:
30-60 days of instruction
Private room and bathroom with AC
3 vegetarian meals & chai tea every day
Sunday activities like rafting, hikes, temple tours, etc
An Ayurvedic massage
Free airport pickup
Your own personal copy of Asana Pranayama Mudra Bandha
---
Kerala, India
The Kerala region offers many health & wellness holiday options. Yoga and Ayurveda are two traditional paths followed by the locals here, and this has seen the opening of numerous Yoga & Ayurveda retreats in the state. The natural surroundings and close proximity to richly fertile land make it the perfect place for these kinds of holistic practices.
Kerala is situated on the western coast of India and weather here remains almost the same throughout the year. Most of the Yoga & Ayurveda retreats have lots of open space and many retreats grow their own vegetables for guests. They also advise which food types suit your body and teach you some basic dishes for everyday-eating when you return home. All these factors make Kerala a great destination for Yogis. The most popular cities in Kerala to learn these practices are Kochi, Alleppey, and Varkala.
Contributed by My Simple Sojourn. Follow their adventures on Pinterest.
Koh Lanta, Thailand
Koh Lanta is a chilled island in Thailand with some beautiful beaches and mountain scenery. It makes a great low key and inexpensive Yoga destination without the crowds of more popular nearby islands like Koh Phi Phi or Phuket.
There are a few places to practice on the island, but the best is Oasis Yoga, my favourite yoga studio in the world. The setting is ultra relaxing in a stilted wooden treehouse overlooking a lush tropical garden, with the sea in front and the jungle-covered mountains behind. The sounds of the waves, chirping birds, and rustling bamboo helped calm my mind and hold the most difficult poses.
The studio is run by friendly American couple Kate and Farra. Farra is a fantastic teacher—down to earth and encouraging, giving you the option of more challenging poses but reminding you to listen to your body and take breaks if you need to. There are usually two to three classes a day from energetic Flow (with options for different ability levels) to deep stretchy Yin. They also have accommodation if you want to create a DIY Yoga retreat.
See our guide to things to do in Koh Lanta for more details.
Contribution by Simon & Erin at Never Ending Voyage. Follow their adventures on Instagram.
Koh Phangan, Thailand
Koh Phangan may be best known for its Full Moon Party, but away from the festivities, the other side of the island is a magnet for Yogis. There are a number of different Yoga schools operating along its Western coast, offering everything from beginners classes to 200-hour Yoga Teacher Training programs. Samma Karuna and Orion are some of the more well-known studios. There are many affordable accommodation options in the area as well, from beachside huts to bungalows in the jungle, and cheap and healthy vegan and vegetarian food is easy to find. When you're not on the mat, you can choose from a plethora of uncrowded beaches for some quiet meditation or soak up some sun, and if you decide to venture out one night to check out one of the parties, songthaews (shared taxis) operate all over the island.
Contribution by The Imagination Trail. Follow their adventures on Instagram.
Goa, India
Goa is synonymous to beaches and amazing Portuguese architecture in India. What you may not know is that it is also one of the best destinations for Yoga retreats. Many beach resorts have daily Yoga classes in the morning and evenings. So if amazing food, the spectacular Arabian sea, the architecture and culture was not enough to entice you to Goa, here is another cherry on top.
The calm beach setting and the mountains of south Goa is a perfect backdrop to practice the ancient technique of transformation. Thanks to booming tourism from all over the world, Goa retreats can afford the best professional trainers to cater to the demand. Some resorts also offer different packages for different budgets, which varies with the experience of the trainer, the time and the level of Yoga. Kranti Village Resort is one of the famous Yoga retreats meant for serious Yoga aspirants.
Contributed by Backpack & Explore. Follow their adventures on Instagram.
Related reading: 7 tips for solo travel through India. 
Ambergris Caye, Belize
There is a beach-side Yoga retreat and eco-lodge north of San Pedro called Ak'bol Yoga Retreat and Eco-Resort. They have daily Yoga sessions, which you can attend even if you're not staying at the resort. Held in the palapa at the end of the pier, after class, you can enjoy meditation and then jump right into the beautiful waters of the Caribbean.
Yoga classes are $15 USD, and they welcome all levels of experience from beginners to advanced. You can also arrange for private classes and schedule in a massage. Classes are open to everyone, even if you aren't staying at the resort. If you want a more immersive experience, you can attend one of their Yoga retreats that take place throughout the year.
After enjoying a long Yoga session, you can chill out on the beach or eat some of their fabulous tacos and burritos overlooking the water. Even when not participating in Yoga, our group still wanted to come here almost every day to enjoy their delicious restaurant.
In between Yoga sessions, there are many other things to do on Ambergris Caye, including snorkelling, diving, and heading to the secret beach.
Contributed by History Fan Girl. Follow her adventures on Instagram.
Salento, Colombia
With lust meadows and vast greenery, Salento is the ideal place for a Yoga getaway. Tucked away in the premier coffee region of Colombia, the entire town is calm and quiet. Its tranquil beauty is manifested in the Cocora Valley nearby, where hundreds of wax palm trees tower over the small pathways along undulating valleys.
On the other side of the small town, eco-friendly fincas offer lodging with the most beautiful views. In the morning, just before the sun appears, the endless miles of farmland provide ample refuge for anyone looking for a deep stretch. Blue skies, incredibly fresh air, and a nice cup of coffee to follow are some of the many advantages that practising Yoga in Salento brings. The occasional chirping of birds combined with the sporadic breeze make this sleepy town a heavenly destination for those looking to achieve inner peace while strengthening the physical body. I can't recommend it enough, and will definitely be back soon!
Contributed by Beyond My Border. Follow their adventures on Instagram.
Like what you're reading? You can pin the article to Pinterest using the graphic below.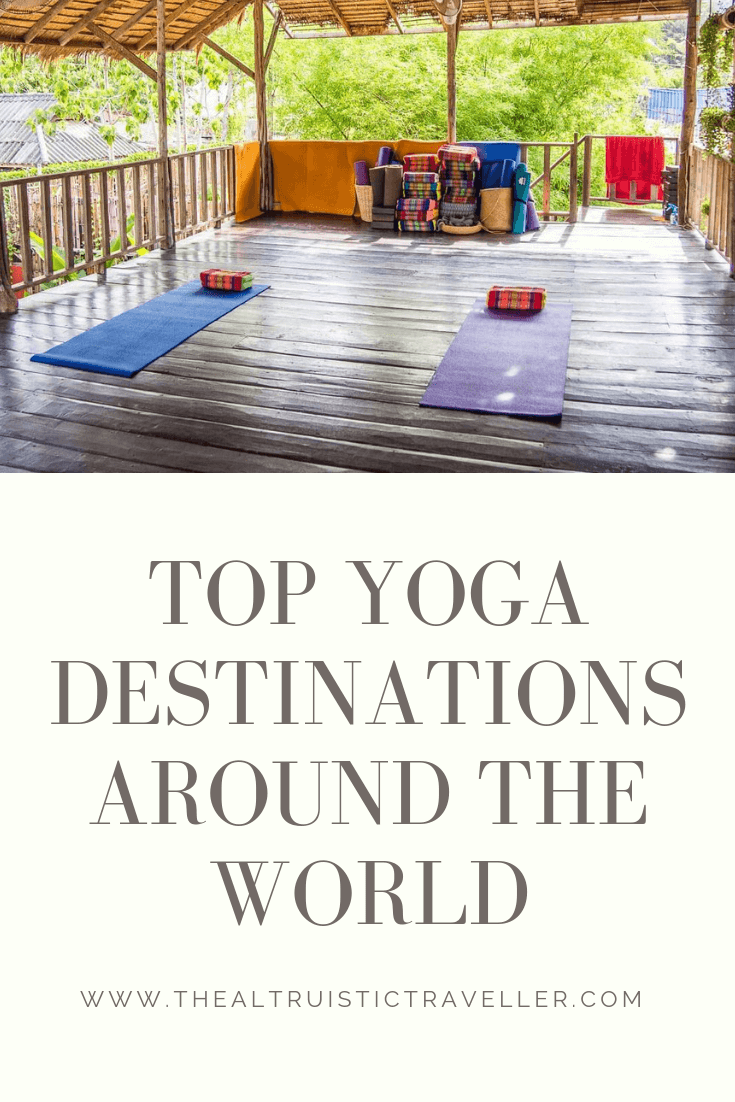 ---
This article contains affiliate links meaning I may receive a commission should you book using any of these links. I only affiliate myself with companies and organisations that I trust to be ethical and sustainable so I know you'll be in good hands. Any of the profits I make go towards continuing to share with my readers how they can travel responsibly and help support the causes they care about.